Even though some business owners tend to neglect the importance of the About Us page, this is one of the crucial pages on your website. If organized and created properly, it should urge your prospective clients to contact you instantly and, eventually, buy your products or book your services. Concerning the fact that establishing a high-quality website is a serious endeavor in which close attention is paid to every single detail and thus even to choosing the colors for your website, it does not surprise that an exceptional About Us page should follow certain rules. In our attempt to help you meet the requirements in this discipline, we have created a comprehensive list of effective strategies on how to create a converting About Us page.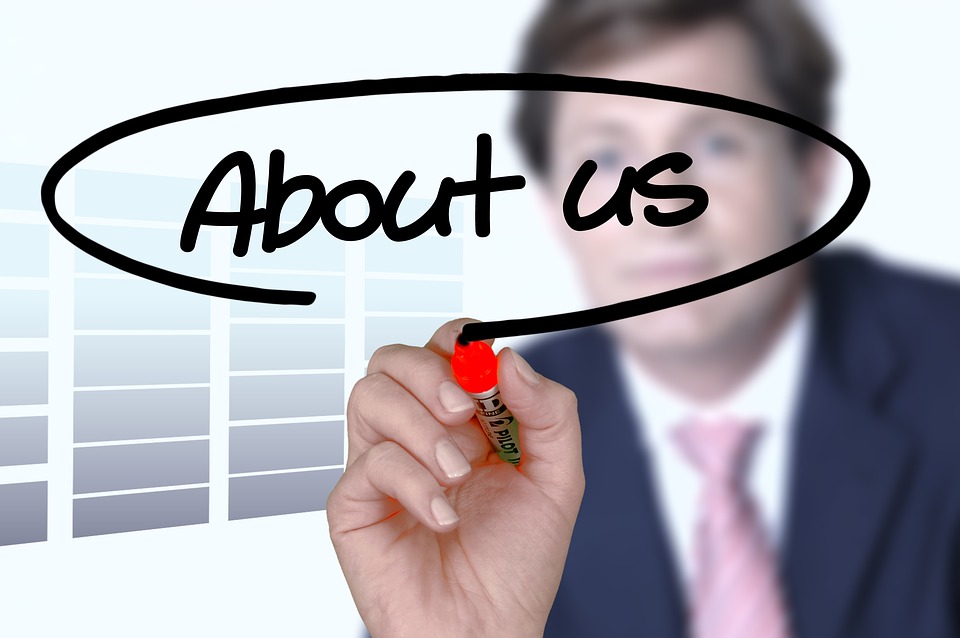 About Us is actually about your customers
There is a general tendency to use the About Us page for self-promotion, boasting, and big words about business owners and their companies. Unfortunately, this is an approach which will never bring desirable and satisfying results. Why? Because the About Us page is aimed at making prospects believe you, get informed on your vision, plans and ambitions and, eventually, create an opinion whether they can trust you or not. The first impression is a decisive factor in determining future engagement. Bear that in mind before you start listing irrelevant information about your outstanding successes without mentioning any numbers or evidence that prove this.
The strategy that will not fail you is to direct all your efforts toward explaining why your company is the right choice. What are your qualities and traits that make you different from your numerous competitors? How can you help your clients? Have you got the experience, knowledge, skills, and qualified staff to solve their problems or help them complete their errands? Why should your products be the first pick on the market? Answer these questions and you will be surprised by the results.
Offer your prospective clients an interesting story
An About Us page is the perfect place to tell an interesting story about your company. Mention the first days, some interesting situations, memorable, and vital moments. Do not hesitate to describe hard times, problems you have encountered on your road to success and how you managed to cope with them. Focus on creativity and use a bit of your sense of humor so that prospective clients can identify with you. Finally, you can also try to summarize all the important dates and events in a timeline.  This is an effective and eye-catching method to present business achievements and growth.
Make your customers trust you through successful visualization
Whether they need high-quality services or they are willing to shop online, prospective clients value believability highly. To trigger trust among them, you should enrich the About Us page with some authentic pictures of your staff, group photos of your expert teams, employees' quotes or even relevant videos. Furthermore, client testimonials are also very useful and they should not be neglected. All these will establish a positive impact on the visitors of your page and hopefully help them make the final decision to contact you.
Charitable component matters to your prospects
When your aim is to create a converting About Us page, do not hesitate to present your prospective clients with your charity work. This charitable component may provide you with a considerable competitive advantage since clients prefer engaging with professional and yet caring and sympathetic business owners. Whether they need home furniture and accessories, moving services or legal advice, customers will always opt for those who are willing to help people in need. This is the policy your company should cherish at all times. Furthermore, you might also inspire other people to get involved in charity work and help them realize why it is a rewarding experience.
Update your About Us page regularly
It is a wide known fact that your website needs to be updated at all times, so revise, analyze, and update the About Us page as well. It is essential to do this on a regular basis so that all the relevant data is easily accessible to your target audience. Write about the changes among your staff, innovations in the way you run your business, and the latest encouraging results. Being very careful and thorough in this field will add up to your credibility, trustworthiness, and professionalism. Finally, this is inevitable for all those who want to gain a high reputation on the market.
We are successful and we can prove it
Although we have already mentioned that boasting and using flowery language is not the option to go for, listing your awards and special certificates that are relevant is the right thing to do. This will significantly affect and add up to your credibility. These documents will prove that you are responsible, serious about continuous improvement, and willing to explore new strategies, techniques, and trends in your niche.
To create a converting About Us page, offer specific information not general
Listing general information about an immense number of satisfied customers, increased sales, or a surprisingly high demand for your services has no meaning at all if you fail to give more specific details. For example, what is the number of new clients you have gained and retained this year? Compare it with that of the last year. What do the numbers say? Share it with your prospects. What profit have you scored this year? How different is it comparing to recent years? These are only some of the facts you need to include in your About Us page.
Final words on how to create a converting About Us page
To create a converting About Us page you need to devote some of your time to this errand and explore the rules which guarantee the maximal results. It will be one of the most frequently visited pages of your website, so you should leave nothing to chance. Plan the content carefully and make sure you provide potential clients with genuinely useful information. Use personal instead of official tone and you will help visitors engage with your company more easily. Furthermore, visualization is a useful means to help you establish believability which is highly valued. Finally, make sure you regularly optimize and update your About Us page. This proves you are a professional who pays close attention to every detail.