When you consider that the main bathroom is very likely to be seen by most of your guests, it makes sense to put the same time and effort into decorating it as you do the other rooms in your home.
First, be sure to determine your overall budget and the scope of the project before doing anything else. This will eliminate additional stress and frustration as your bathroom makeover project is underway.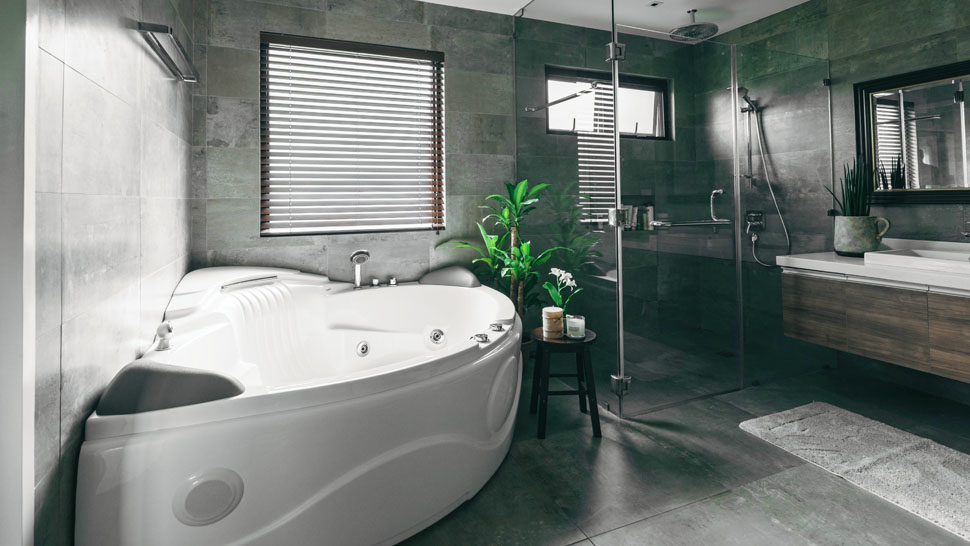 Safety is always at the forefront in the bathroom. Put rugs on the floor that are non-slip. You can find many great selections at any number of stores depending on your budget. Think twice about using glass jars, etc in the bath if there are small children that will be using the bathroom.
Now it is time to start formulating your color and style palette, utilizing the bathroom decorating ideas and plans you may have been thinking about. It's a good idea to be consistent with the style you have set for other areas of your home, although in a bathroom you can 'go down a different road' as long as the basic design elements are kept consistent.
The same question applies to the color palette. Have you established a color palette of three to five colors in your home? If you have, select at least two of those colors, whether primary or secondary, to use in your bathroom decorating project.
If you're not sure what to do with color, here is a suggestion. Find a reputable paint store and work with the suggested palettes and color chips. There are many to choose from, so if you have a color or two that you are working with, you will have no problem finding a variety of suggested color palettes.
Now that you have your style and color choices narrowed down, here are your other considerations and bathroom decoration ideas:
1. Decide if you want to use bold colors on the walls or keep them neutral and use color as an accent. In most bathrooms you can go either way. If you are renting your home or are not sure about putting a lot of color on the walls, stick with a neutral shade and you won't go wrong. Use a washable paint such as eggshell or possibly a semi gloss, although you will get quite a bit of sheen with that finish.
2. Lighting is important in the bathroom for obvious reasons. Make sure you have enough and that at least one light is bright. Using a softer light such as a small lamp in place of a nightlight is great, but make sure your alternative sources of lighting are nice and bright!
3. You can substantially change the look of your bathroom with accessories, so here are some great bathroom decoration ideas – use some or all of them!
Change the mirror to create a new look. If the existing mirror is square or rectangular, consider oval if that will work in your bathroom. Use a mirror that has an interesting frame instead of just a plain or beveled edge.
Shop for accessories that have the color palette and overall design feel you are creating, but please don't settle for the matching set of anything! Spend a little extra time looking for individual pieces that 'click' and they don't have to be new. You might find something awesome in another room of your home, a flea market, shopping online or a combination of all three. Take your time and be selective – you will be glad you did.